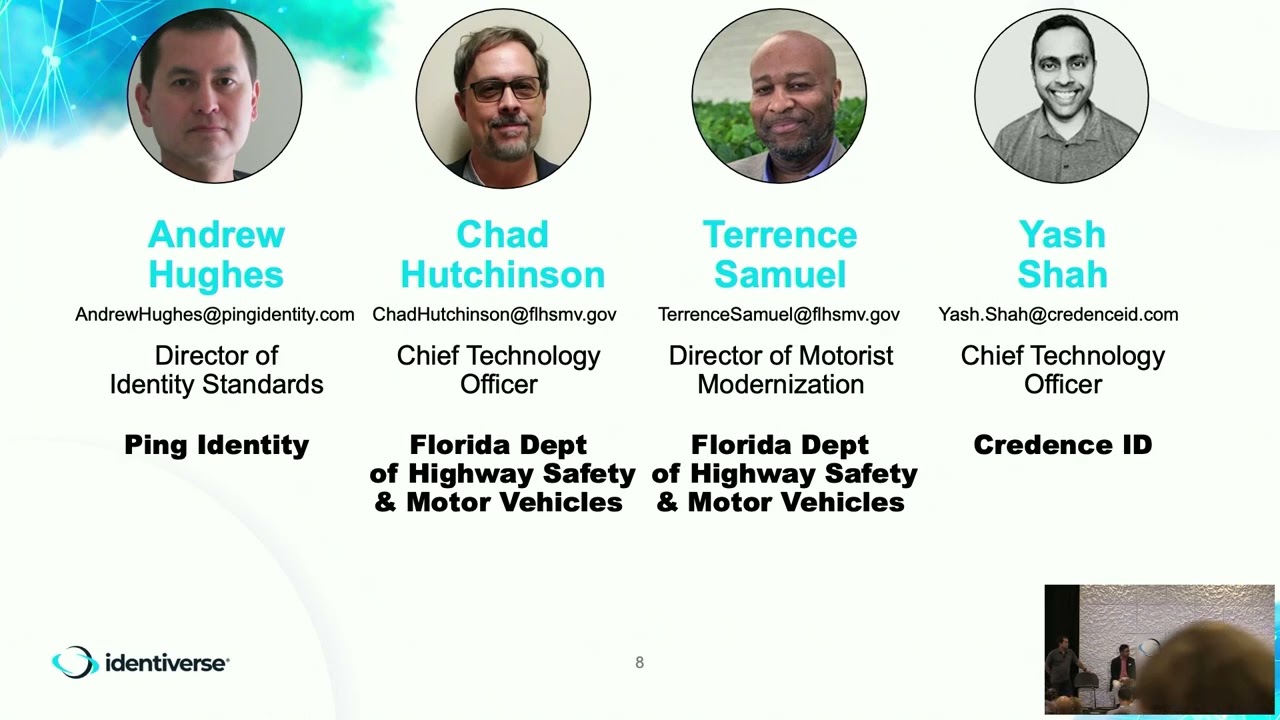 Speakers: Andrew Hughes, Director of Identity Standards, Ping Identity;
Gail Hodges, Executive Director, OpenID Foundation and Special Advisor, California DMV; Terrence Samuel, Director of the Office of Motorist Modernization, Florida Department of Highway Safety and Motor Vehicles; Yash Shah, Co-Founder, Chief Technology Officer, Credence ID
Date: Thursday, June 23, 2022
Location: Denver, CO
Description: A tectonic shift in government-issued digital identification credentials is happening now – can you feel it?
North American, European, Australian, Korean, Japanese and other government jurisdictions have embraced a new standard for mobile digital driving licenses. You may have seen recent press about ISO 18013-5 – the standard for mobile driving licenses (mDL) – and how these mDL can be used at TSA checkpoints to board airplanes. Motor vehicle administrators are rapidly modernizing their infrastructure to put mDL on smartphones around the world. Governments and companies are preparing to accept and verify mDL data using privacy-preserving readers. Trust infrastructure is being deployed to support cryptographic proof of mdl authenticity.
This is just the beginning – and it is real, today.
As government-vetted digital credentials become generally available, and paired with digital credentials issued by any organization, the scope of innovation becomes limitless. This is one realization of the promise of "user-centric identity" – the ability to hold, present and verify genuine credentials carrying authentic information from known issuers, under the choice, control and consent of individuals.
Our panelists are at the forefront of mDL deployment and innovation. We are involved in projects to ensure smooth wide scale rollout of mDL to residents in Florida; advising California on technical and policy choices for mDL; building wireless mDL readers for relying parties; and contributing to standards at ISO, DIF, OIDF and W3C.
Curious? Come and hear our stories from the field.